By Brian Meechan
BBC Wales business correspondent
Big companies must appoint more women as board directors or face quotas, the boss of £12bn nuclear project has said.
Gwen Parry Jones is executive director of operations development at Wylfa Newydd and is leading negotiations with the UK government over its funding.
She previously thought quotas were a "really bad idea", preferring gender equality to be achieved without them, but said "something has to change".
In the FTSE 100, 29% of all board directors are women.
However, the majority are non-executive directors, while the percentage of women in executive roles such as chief executive or chief financial officer has flatlined at 9.7%.
"I was looking at some statistics the other day that 86% of the top 80 UK energy companies don't have any women executives… We've got to change that," said Ms Parry-Jones, who is on the board of Wylfa Newydd's developer Horizon Nuclear Power.
"For 30 years, in my life of work, people have been saying we're on the verge of a breakthrough. 30 years later, the breakthrough hasn't come."
There is a "huge pipeline of very talented women", she argued, but the industry is losing many of them mid-career and must make sure working conditions are attractive.
Anglesey-born Ms Parry Jones was the first and only woman to run a nuclear power station in the UK when she took over at Heysham 1 in Lancashire in 2008 – something she would like to change.
She has settled back into life on Anglesey having been appointed to Wylfa Newydd in April, tasked with overcoming a number of hurdles including getting planning permission and marine licences.
The UK government said it would take a stake in the project and Ms Parry-Jones defended taxpayers' money being used on a national infrastructure project.
"Some of these big infrastructure projects… have a very long timescale before you start returning some investment back to shareholders," she said.
Ms Parry Jones said local people would also benefit from the development – at the height of construction, about 9,000 people are expected to be employed. A third will be local and another third will come from elsewhere in the UK.
She added: "My great hope for the future is not only do we create high-quality employment [for locals] but perhaps specifically that I find the next female station director."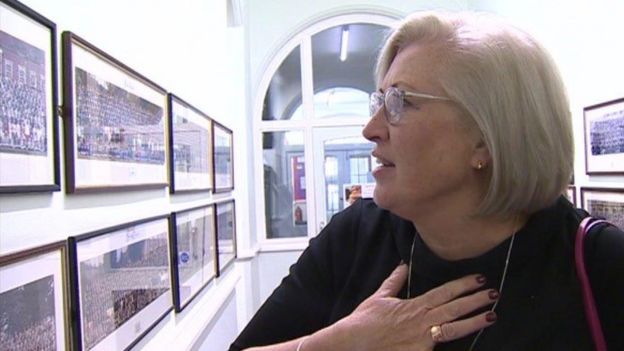 Gwen Parry Jones looks back on her school days at Rydal, Colwyn Bay.
The life and career of Gwen Parry Jones
Grew up on Anglesey, both of her parents were scientists.
Attended boarding school Rydal in Colwyn Bay while her parents worked abroad.
Gained a degree in physics from Manchester University and an MA in banking and finance from University College of North Wales.
Fellow of the Institute of Physics.
First worked at Wylfa, Anglesey, in 1989 as a reactor physicist and has worked around the world.
Article found at: https://www.bbc.co.uk/news/uk-wales-45669343